Your throat
What's in your throat?
Your mouth can be described as the entrance hall to the throat.
In your mouth you'll find your tongue and teeth. Your mouth is also the exit of the salivary glands which produce spit.
At the back of your throat you can find your tonsils.
Your tonsils detect germs and other microbes within food whilst you are eating. Your tonsils also send out antibodies against the germs which have been built up within your mouth. If you get severe infections of your tonsils then they should be taken out.
But, that`s not all! Deep within the throat you`ll find the larynx – or voice box and within the upper part of the trachea you'll find your vocal chords.
Whilst you are breathing air passes through the throat pipes and produces a tune, when you move your tongue, facial and pharyngeal muscles at the same time these tunes turn into speech!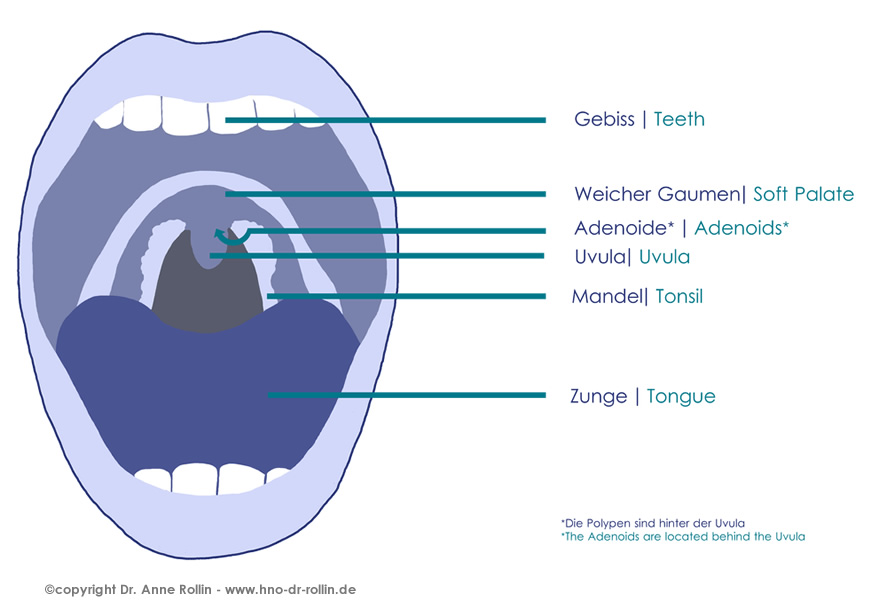 Contact
Dr. med Anne Rollin
ENT Doctor
Beselerplatz 11
DE 22607 Hamburg
Opening times
| | |
| --- | --- |
| Mo | 8:00-12:00 - 14:00-16:00 |
| Tu | 8:00-12:00 - 17:00-20:00 |
| We | 8:00-12:00 |
| Th | 8:00-12:00 - 14:00-16:00 |
| Fr | 8:00-12:00 - 14:00-16:00 |
 Emergency cases daily
 Other appointments available:
+49 (0)40 - 890 64 882
"Mrs. Dr. Rollin takes the time to do a detailed treatment and knows what she is doing. I was helped very well here. "
"Mrs. Rollin is very nice and humorous. Professionally, I feel very well looked after and advised."
"Mrs. Dr. Rollin is thorough, competent and still very nice and takes a lot of time for her patients."
Fax
+49 (0)40 - 890 64 883
| | |
| --- | --- |
| Mo | 8:00-12:00 - 14:00-16:00 |
| Tu | 8:00-12:00 - 17:00-20:00 |
| We | 8:00-12:00 |
| Th | 8:00-12:00 - 14:00-16:00 |
| Fr | 8:00-12:00 - 14:00-16:00 |
A7 exit "Othmarschen" (29)